Customer Comments
I am a Cpl. in the Army and just returned from Iraq. I carried my shotgun all year on my back in your shotgun scabbard, and it worked great! I was glad to have it around several times, and it proved to be an easy way to keep the shotgun handy for the squad. Thanks for your great product, and for your support of our troops!!

Cpl. C.R. [omitted]
36th Infantry Div.


---

Got the T-shirt....IT ROCKS!!!!

Thanks guys
kelly [omitted]


---

Dear Sir, The Falcon Chest Harness finally arrived to me at Camp Taji, Iraq. Thank You! It is now set up for fitting over my IOTV and Battle Ready!!!

Thanks!!!
[name omitted]

(already the guys are asking who to order one from, so you might be getting a few more requests!!!).


---

Dear SF company.

Thank-you for sending another t-shirt it looks great the boys in the unit will want one when they see it. I'll be sending them right to you.

Thanks again.

Another happy customer
Bob Miller


---

When I was stationed at Camp Pendleton I was in Weapons Company 3/5. The unit made us t-shirts with the 3/5 logo/emblem/crest, "Consumate Professionals". I was honorable discharged in 1999 and the t-shirt has been long-gone. I searched a couple of web site to find a shirt with the logo/emblem/crest but there was no luck. It didn't take me long to search this site before I found what I was looking for. When the shirt arrived it was better than what I expected. I love the t-shirt and wear it with pride and often. Thank you SpecialForces.com

Most Sincerely,
Bryan P.


---

Thank you!!!

Your Shirts are the best.

Andreas


---

Dear SFG,

Thank you for being so prompt with my order, and the refund as well.

I thought a little constructive thoughts were in order.

The "HRT" boot knife is well constructed. I had to "hone" the edge though, both sides,to get it up to spec.

As for the "GI USMC Combat Knife"......Well, it wasn't really a K-Bar, at least not one that I've ever seen. It read "US", and above that it read "Ontario". No worries though, after I used a ceramic sharpening stone on both the small back edge and the full length edge, I'm quite pleased with them both. Oh, I almost forgot, both were very pretty well balanced.

I'll be purchasing again from you in the near future.

Sincerely,
Ed Whiteside


---

Dear Special Forces

I received my order i have to say that is better than i expected! Thank you and you'll hear fom me soon.

PARASCHOS


---

They turned out GREAT!!!!!! Thanks. I will be back for other things.

Rick


---

Thanks Folks. As always you have been most polite and professional. Best wishes for a Merry Christmas and Happy New Year.

Jack And Melanie Edgar


---

Steve,

OMG! That looks awesome! Is there any logo on the front? Can I buy these off the website? I'm sure a lot of SWCC guys are going to want these!

Thank you,

Amanda Van Every


---

Dave,

We love the art work. They are awesome. I'll be ordering mine right after this. Thanks for all the work. I am recommending you guys to all the other battalions and ODA's.

David


---

Hello,

Just to let you know all items have been recieved, fantastic quality as all ways.

Cheers Andrew and best wishes for the New Year.


Welcome to the new Special Forces Gear Newsletter! Each month we send out a lot of information and great deals, and to make it easier to read, we've written a summary of the longer articles in this email.


Dave's Message
Leadership by Example
"A leader leads by example, whether he intends to or not"
- John Quincy
'In war men are nothing; it is the man who is everything. The general is the head, the whole of an army. It was not the Roman army that conquered Gaul, but Caesar; it was not the Carthaginian army that made Rome tremble in her gates, but Hannibal; it was not the French army that carried the war to the Weser and the Inn, but Turenne; it was not the Prussian army which, for seven years, defended Prussia against the three greatest Powers of Europe, but Frederick the Great.' So spoke Napoleon, reiterating a truth confirmed by the experience of successive ages, that a wise direction is of more avail than overwhelming numbers, sound strategy than the most perfect armament; a powerful will, invigorating all who come within its sphere, than the spasmodic efforts of ill-regulated valor.
"The power and impact of the leader
may not be seen, but it is surely felt."
Even a professional army of long standing and old traditions are what its commander makes it; its character sooner or later becomes the reflex of his own from him the officers take their tone; his energy or his inactivity, his firmness or vacillation, are rapidly communicated even to the lower ranks; and so far-reaching is the influence of the leader that those who record his campaigns concern themselves but little as a rule with the men who followed him. The history of famous armies is the history of great generals, for no army has ever achieved great things unless it has been well led. If the general be second-rate the army also will be second-rate. Mutual confidence is the basis of success in war, and unless the troops have implicit trust in the resolution and resources of their chief, hesitation and half-heartedness are sure to mark their actions. They may fight with their accustomed courage; but the eagerness for the conflict, the alacrity to support, the determination to conquer, will not be there. The indefinable quality which is expressed by the word moral will to some degree be affected.
"A leader is one who knows the way, goes the way,and shows the way"
- John C Maxwell
"Leadership is leaders inducing followers to act for certain goals that represent the values and motivations, the wants and needs, and aspirations and expectations, of both leaders and followers.
And the genius of leadership lies in the manner in which leaders see and act on their own and their followers of values and motivations.
The architecture of leadership, all the theories and guidelines, fall apart without honesty and integrity. Divorced from ethics, leadership is reduced to management and politics to mere technique.
The fact is that leaders that tell their subordinates the truth, even when the news is bad, gain greater respect and support for ideas than their less virtuous counterparts.
In relationships trust is everything and leadership is no different. The men must trust the leader and the leader must trust the men.
Invariably an organization takes on the personality of its top leader, providing that individual is in touch with the members of the organization. If the leader is petty the subordinates will be petty. But if the leader is encouraging, optimistic, and courteous, then the vast of majority of people in the organization will be as well.
"All Leadership is influence"
- John C. Maxwell
From the moment we entered this world we have all been touched by the invisible impact of leadership by example. For those of us that came up in families the oldest learned quickly that whatever they did their younger brother or sister was sure to copy sometimes getting them in trouble. What started in the home also carries outside the home younger kids watching older neighborhood or school kids often copy their behavior for better or worse and this continues on throughout our lives.
This is why the company you keep is so important. If you spend enough time with the wrong crowd they will eventually bring you down. The leader must understand the power in influence he has over his followers and constantly set an example. For the leader class is never over his every decision and behavior is forging future leaders and as a result he will have an invisible impact on future events.
"Example is not the main thing in
influencing others, it is the only thing."
Throughout history leadership by example has played an invisible role with immeasurable impact but often seen to those who live it. Bold Commanders aggressive and not afraid to take calculated risks instill these same qualities into their subordinates which claimed many future victories winning many battles. Unfortunately the same is true for the cautious non aggressive commander which leaves a legacy of lost opportunity.
Leaders hold a great unseen power called invisible impact. This is the living legacy they leave behind for those who follow.
"The final test of a leader is that he leaves behind him in other men, the conviction and the will to carry on"
- Winston Churchill
HOOAH,
Dave



Click here to send Dave a private message.
Voice of the Soldier
This section is designed to give you a voice where you can express opinions or give messages. We encourage you to speak out! Send us your commentary, stories, articles, etc...
---
Special Operations Warrior Foundation
Special Forces Gear is now hosting a
special section for the Special Operations Warrior Foundation.
The Special Operations Warrior Foundation (SOWF) provides college scholarship grants, along with financial aid and educational counseling, to the children of Special Operations personnel who were killed in an operational mission or training accident.
All profits from these items go to the
Special Operations Warrior Foundation

Learn More about the
Special Operations Warrior Foundation (SOWF) >>
VIDEOS

Vance AFB JSUPT Video
Helicopter backflip into crash
Return to Makin Island iPod Version
How the Nazi's Captured Europe
and Lost it 6 yrs
Word of Truth
The Royal Family Honor Code
By Rev G.J. Rako
LTC IN USAR (Ret)
Many years ago, as a young man and a new Christian, I was taught the about integrity of God and the royal family honor code by my pastor R.B.Thieme Jr. These marvelous doctrines of the Bible blew my mind. God has given us a code to live by based on His integrity (perfect righteousness and justice), and provided in grace everything we would need to accomplish living under this honor code. I learned salvation, is by grace and the Christian way of life is executed by means of grace. What a load off my shoulders. God accomplished the work and I (you) derive the benefit.
The royal family honor code is a system of spiritual integrity mandated by God and revealed in the mystery doctrine of the Church Age.
The royal family honor code relates to personal integrity in relationship with other persons. The honor code is a supplement to impersonal love for all believers. The honor code includes the filling of the Spirit; doctrinal orientation; grace orientation, and a personal sense of destiny. The believer, by means of the filling of the Holy Spirit and inculcation of doctrine, will understand and develop the honor code in his life.
The recipients of Bible doctrine must not only apply this truth, but also communicate it in terms of their lives in relationship to others. Therefore, the royal family honor code centers around two words, truth and integrity. Integrity is adherence to spiritual, moral, and ethical principles related to honor. Hence, the royal family honor code relates to both the plan of God as well as every function in relationship to people, which means the laws of divine establishment.
The believer is born again into a status quo of aristocracy. The Church Age is the dispensation of the royal family of God. Therefore, we must have royal function. Jesus Christ Himself is the basis for the honor code. He left us this honor code. He has three categories of royalty: divine, Jewish, and battlefield. This last category of royalty is necessary to provide a royal family for Christ seated at the right hand of the Father. Therefore, the Church Age was inserted into the Jewish Age to call out the royal family. The baptism of the Holy Spirit enters us into union with Christ making us spiritual aristocracy.
Aristocracy has standards and these standards make up the honor code.
The honor code is the Christian way of life; it is compatible with two things that happened at salvation.
(1) The baptism of the Spirit and current positional truth provide the Church Age believer with a double portion of perfect righteousness and eternal life. The phrase "in Christ" found throughout the New Testament is the basis for the fact that the honor code is superior to any other code, system, morality, or spiritual function in any previous or future dispensation.
(2) The imputation of perfect righteousness provides a purpose for the royal family. This imputation provides both motivation and momentum. We have the perfect righteousness of the Father through imputation, and the perfect righteousness of the Son because we are in union with Him. Right thinking results in right motivation. Right motivation means right function. This is the thrust of the royal family honor code.
For this right thinking to occur there must be maximum Bible doctrine in the soul. For application of this resident doctrine, there must also be the filling of the Holy Spirit. The honor code is executed by means of the Spirit, but only when filled with the Spirit. The honor code includes the advance to spiritual maturity. The honor code makes it possible for every believer who is positive to doctrine to advance to maturity. The Holy Spirit sponsors you in the plan of God.
There is a great enemy to the honor code, gossip, maligning, and slandering others.
Eph 4:25, "Therefore, having laid aside the lie, each one of you speak the truth with his fellow-believer, since we are members one of another."
"The lie" is anything that contradicts the honor code. "The lie" includes certain areas of carnality, cosmic involvement, and Christian degeneracy. "Laying aside the lie" is recovery in all of these areas where we have failed. The Christian way of life, which is the plan of God for our lives, is the greatest producer of honor and integrity in all of history. It is an honor and integrity produced by the ministry of God the Holy Spirit. It is an honor and integrity produced by perception, metabolization, and application of Bible doctrine. Absolute truth will tolerate nothing less than the honor, integrity, and virtue that come from the filling of the Spirit, the perception and inculcation of doctrine, and the resultant spiritual growth. Absolute truth has prevailed in the past and will prevail in the future. However, when people reject absolute truth, there is no understanding of honor and integrity.
The royal family honor code is related to the laws of divine establishment and impersonal love.
Rom 13:8 "Owe nothing to anyone except to love one another; for he who loves his neighbor has fulfilled the law [of divine establishment]." The first half of the verse deals with spiritual self-esteem; the last half with human self-esteem.
Rom 13:9 "For instance, this, `You shall not commit adultery, You shall not murder, You shall not steal, You shall not covet,' and if there is any other commandment [and there are], it is summarized in this doctrine,`You shall love your neighbor as yourself.'"
Note that both life and property are sacred under the laws of divine establishment.
You must have human self-esteem as an unbeliever and spiritual self-esteem as a believer in order not to covet. Everyone, rich or poor, covets when they do not have self-esteem. With self-esteem, you are content with what you have. You do not have to have anything to have self-esteem. Charity is love plus self-esteem. Socialism is lack of self-esteem.
"Loving self" is self-esteem; it is being free of arrogance. You are to have impersonal love for others just as you have self-esteem. This is quoted from Lev 19:18; it is quoted in Mt 5:43, 22:39; Mk 12:31; Lk 10:27; Gal 5:14; Jas 2:8. Lack of self-esteem is the basis for people having hang-ups about themselves, or being anti-social and hyper-social.
Lev 19:18 says, "You shall not take revenge." Who takes revenge? People with no self-esteem take revenge. Christians outside of the plan of God take revenge. The first half of this verse is a direct statement of the laws of establishment as found in the Decalogue. This demands freedom and morality. The second half of this verse summarizes the execution of any system of establishment. This demands integrity and the execution of the royal family honor code during the Church Age.
There are violations of the royal family honor code listed in both the Old and New Testaments of scripture. Proverbs lists the seven worst sins as far as God is concerned.
Prov 6:16-19 "There are six things which the Lord hates; yes, seven are an abomination to His soul: haughty eyes [arrogance], a lying tongue, and hands that shed innocent blood [murder], a right lobe that devises evil plans [conspiracy, rejection of authority, revolution, civil disobedience], feet that run rapidly to evil [troublemakers], a false witness who utters lies [slander, gossip, maligning, perjury], and one who spreads strife among the brethren."
The Apostle Paul in the book of second Timothy also describes believers who violate the royal family honor code.
The believers mentioned in 2 Tim 3:2-8 reject the truth, and so reject the royal family honor code. They are compared to unbelievers who oppose doctrine. The royal family honor code demands virtue, integrity, metabolization of doctrine, and grace orientation for its function. Without the function of the royal family honor code and the plan of God, the believer cannot be distinguished from the unbeliever experientially. The believer without the royal family honor code is described as useless and worthless by comparison.
2 Tim 2:16-17, "Avoid profane and useless chatter [gossip, maligning, slandering], for that will make further progress in ungodliness, and their [false] doctrine will spread like cancer. And among them are Hymenaeus and Philetus."
The royal family honor code relates to the protocol plan of God primarily through the avoidance of the sins of the tongue.
Eph 4:25, "Therefore, having laid aside the lie, each one of you speak the truth with
his fellow-believers, since we are members one of another."
Rom 14:4 notes the sins of the tongue in violation of the royal family honor code,
"You, who are you to keep judging a servant that belongs to another? To his own Lord he stands or falls; and stand he will, for the Lord is able to make him stand."
In Roman society, no one judged or punished the servant of another Roman. You have no right to judge another believer who is the servant of God. God has not delegated the prerogative of judging other believers to the arrogant, self-righteous, legalistic, weak believer. Therefore, the legalistic, arrogant, self-righteous believer is both presumptuous and blasphemous when he slanders, maligns, gossips, or judges another member of the royal family. The believer who judges others is weak. He seeks to gain strength and power by putting down or discrediting other believers. Under the tyranny of the weak, everyone is weak. But under the royal family honor code everyone is strong. Perception, metabolization, and application of Bible doctrine, adherence to the royal family honor code, and living the Christian way of life becomes the basis for establishing the virtue required by the royal family honor code. The believer is only authorized to judge himself under the principal of confession of sins of 1 John 1:9 and 1 Cor 11:31. By leaving judgment and revenge in the hands of the Lord, the believer is executing the royal family honor code.
Verbal sins are a violation of the royal family honor code and result in triple compound discipline, Matt 7:1-2. You are disciplined for your verbal sins, your mental attitude sins that motivated the verbal sin, and the sins that you name in judgment or slander. Any discipline, which might have gone to your victim (if he was guilty), is transferred to you.
Rom 14:10, "But you, why do you judge your brother? Or you also, why do you regard your brother with contempt? For we shall all stand before the judgment seat of Christ."
Rom 10: 13, "Therefore, let us no longer judge each other. But rather, determine this, not to put an obstacle [distraction] in a brother's way."
Judging others is not only a violation of the royal family honor code, but it becomes an occupational hazard in the execution of the Christian way of life. This is especially true of the child or adolescent believer, whose norms and standards are based on things he had before salvation, and not based on the teaching of the Word of God. Because of false norms and standards, it is impossible for the spiritually immature believer to evaluate himself or another with Biblical accuracy.
Believers in spiritual adulthood must be careful to provide spiritual freedom for adolescent believers who have not attained their stage of spiritual growth. The royal family honor code provides an environment for new believers to make mistakes and keep growing while they learn in the privacy of their priesthood. The royal family honor code provides the necessary privacy and spiritual freedom so that the believer in each stage of spiritual growth can continue the execution of the Christian way of life without outside interference.
The royal family honor code recognizes that there are strong and weak believers. The weak believer must be understood for what he is. The code demands more of the strong believer than of the weak believer. The weak believer has false standards with regard to the Christian way of life. He has the wrong precedence; he is legalistic, his precedence is based upon the Mosaic Law or some system of morality he brought with him into salvation. The weak believer is filled with mental attitude sins and is constantly throwing dirt on others. He fails to recognize the privacy of the royal priesthood. The strong believer has a maximum understanding of the royal family honor code. He avoids the inflexibility of legalism. He has maximum doctrine but doesn't throw his weight around. He has grace orientation, uses the problem-solving devices that scripture provides, and is occupied with Christ. The strong believer must be careful not to judge weak believers who are ignorant.
The royal family honor code recognizes that new believers cannot operate on the same standards as those who have attained spiritual self-esteem. The royal family honor code assigns additional duty to the strong believer.
Rom 15:1, "Now we, the strong, are obligated to keep on bearing the weaknesses of the weak, and not to accommodate ourselves."
Putting up with the weak is a heavy load, and only the filling of the Spirit and maximum Bible doctrine in the soul gives you the ability to tolerate all the nonsense of weak believers. Bearing the weaknesses of the weak is maximum utilization of impersonal love and total toleration in the area of non-essentials.
The principle of flexibility in the honor code is where rightly dividing the Word of Truth comes into its own in this dispensation. The honor code demands that the believer distinguish between the essential and the nonessential. The essential is doctrine; the non-essential becomes everything else in life. About the essential you must always be inflexible. About the nonessential, you must be flexible. Flexibility tolerates all the
weirdoes, legalists, holy rollers.
Bible doctrine in the soul establishes the norms on which priorities are put in place. Without doctrine in the soul, the believer operates under erroneous norms and false standards.
Jesus distinguished between the essential and the non-essential when he put the arrogant woman of Luke 11:27-28 in her place. She introduced a non-essential. The Lord replied with what was essential, that is, hearing and retaining the Word of God.
Heb 10:35-36 "Don't throw away as worthless your confidence in doctrine...for you keep on having need of persistence, in order that when you have accomplished the will of God [maturity] you might carry off for yourself the promise [escrow blessings]."
Rom 13:4 "Let God continue truthful though every man a liar... that you might become vindicated by means of your doctrine..."
If doctrine is always the essential and you are inflexible, then you will always be flexible about the non-essentials. Inflexibility in non-essentials destroys empires, people, and virtue. Rom 8:33-36, the honor code demands inflexibility regarding doctrine and flexibility regarding nonessentials. See also Rom 14:1-4, 20-23; 15:1-2.
Revenge is a violation of the royal family honor code. When wronged, let the supreme court of heaven handle the case. The royal family honor code demands that we leave retaliation and vengeance in the hands of the Lord. It is blasphemous to supersede God as judge.
Rom 12:19-21 "Beloved never take your revenge on others. Instead, give place to punishment from the justice of God. For it stands written [Deut 32:35], `Vengeance belongs to Me. I will repay,' says the Lord."
The modus operandi of the royal family honor code demands grace.
Rom 12:20 "But if your enemy is hungry, feed him. If he is thirsty, give him water. For by doing this, you will pile coals of fire on his head."
You function in grace and do not retaliate while the supreme court of heaven handles your case.
Rom 12:21 "Stop being conquered by evil, but conquer evil by means of the absolute good."
The absolute good includes the function of grace in the royal family honor code. The royal family honor code demands grace orientation and grace modus operandi. By feeding your enemy when he is hungry, the believer leaves hostility toward others in the hands of the Lord. This is dependence on the integrity of God rather than on revenge and retaliation. This is also the function of impersonal love. The royal family honor code never mandates the believer to stoop to the level of vindication, implacability, hatred, arrogance, or bitterness toward other believers. The benefits of grace demand the function of grace. We have been benefited by grace, therefore we function by grace.
Retaliation interferes with the justice of God punishing others. If you get in the way, punishment is often postponed. Retaliation lowers the believer to the level of his antagonist. Never reduce yourself to the level of what you despise in others. The royal family honor code demands that we never stoop to the level of evil, or be overcome by evil. When we stoop to the level of evil, we are overcome by that evil. The royal family honor code demands the high standards of grace orientation. Revenge or retaliation is being overcome or conquered by evil. Overcoming or conquering evil by means of the good (Rom 12:21) is the motivation of grace orientation and the modus operandi of grace function in the royal family honor code.
The royal family honor code demands three applications.
Grace orientation.
Impersonal love for all mankind.
Occupation with the person of Christ.
Any reference in the New Testament to speaking the truth is a part of the royal family honor code. Any reference to falsification, misrepresentation, fabrication, perjury, duplicity, fraud, perversion, or distortion of the truth is a violation of the royal family honor code.
Blue Warrior
Blue Warrior

Command & Control in Tactical Environments
Automatic weapons, armored vests, 148,000 rounds of ammunition, small squad military tactics and a plot to assault and kill Americans. What foreign terrorist organization could have this type of resolve to harm Americans? This terrorist cell is currently in Federal court in downtown Detroit facing charges of plotting to kill Michigan Law enforcement officers and their not a foreign terrorist organization. This group is from Michigan and they call themselves the "Hutaree" which they claim, means Christian warriors.
The plan was to murder a local police officer in an ambush. Then at the officers funeral they were to attack the police procession in a military style assault. This small force was well equipped with explosives, sniper ghillie suites, ballistic helmets and night vision. They planned on devastating the police with an ambush that included improvised explosive devices, small squad battle tactics with a well trained militia.
We can only speculate what would have occurred as the funeral procession proceeded into the Hutaree ambush. This type of assault isn't an active shooter response that a Diamond formation or Mactac style response will resolve. This assault is similar to the Mumbai attack which will require a coordinated tactical response from a dominating force.
Hutaree was preparing for what they believed would be an apocalyptic battle with forces of the Antichrist, whom they believed would be supported and defended by local law enforcement. The following statements were introduced into a Federal trial this week, "we are willing to go to war" and "welcome to the revolution".
Imagine your swat team responding to such an attack with an enemy equal to an Al-Qaeda force. Does your team have the capabilities to respond to a force with this type of training, equipment and motivation? The most important factor in responding to this type of assault is "command and control" of the responding tactical forces. Mumbai's lack of command and control is a classic example what can happen without a clear mission with objectives to achieve. When this occurs friendly forces will most likely suffer greater losses.
Mission Command
I have used the military model of "mission command" for command and control within my Special Response Team since its inception. What I have found is the team has a greater capability to function in the chaos of combat on its own. They can respond to tactical challenges as they arise on the battlefield without compromising the tactical advantage of time, speed, surprise, and violence of action or shock.
Successful mission command rests on the following elements: the tactical commander's intent, subordinates initiative, and tactical operation orders. Under mission command, tactical commanders provide team leaders with a mission, their commander's objectives, initiatives, concept of the task, and resources adequate to accomplish the mission. The tactical commander empowers team leaders such as the Entry Team Leaders, Assistant Entry Team Leaders, Sniper Team Leaders and Crisis Negotiator Team Leaders to make decisions within the commander's intent and objectives.
I commonly leave details of execution to the team leaders and require them to use initiative and judgment to accomplish the mission. I expect these team leaders to identify and act on unforeseen circumstances, whether opportunities or threats, while conducting their tactical operations. Seizing, retaining, and exploiting the operational initiative requires team leaders to exercise individual initiative and they have the authority to do so. Training team leaders under mission command develops disciplined initiative and skilled judgment. It also gives tactical commanders the confidence to delegate them the necessary authority during operations. Mission command enables tactical commanders to use the unprecedented agility and flexibility of the modular force to take advantage of the chaos of war. It allows swat teams to rapidly adapt to changes in the situation and exercise initiative within the tactical commander's intent to accomplish the mission.
Operational Concept
In this style of command seizing, retaining, and exploiting the
initiative
with
speed, shock, surprise, depth, simultaneity,
and
endurance
are key.
Initiative:
in its operational sense, is setting or dictating the terms of action throughout an operation. The side with the initiative determines the nature, tempo, and sequence of actions. Initiative is decisive if retained and exploited. In any operation, a tactical force has the initiative when it is controlling the situation rather than reacting to circumstances. The counterpart to operational initiative is individual initiative, the willingness to act in the absence of orders or when existing orders no longer fit the situation.
Speed:
the ability of tactical squads to act rapidly. Rapid maneuver dislocates the enemy force and exposes its elements before they are prepared or positioned. Rapid action preempts threats to security. It reduces suffering and loss of life among noncombatants or victims by restoring order. At the strategic level, speed gives tactical forces their expeditionary quality and allows tactical forces to keep the initiative. It contributes to their ability to achieve shock and surprise.
Shock: the application of violence of such magnitude that your adversary is stunned and helpless to reverse the situation. Shock entails the use of a "overwhelming dominating force" at the decisive time and place.
Surprise:
involves the delivery of a powerful blow at a time and place for which your adversary is unprepared. When combined with shock, it reduces friendly casualties and ends opposition swiftly.
Depth:
the ability to operate across the entire area of tactical operations. It includes the ability to act in the information
environment of the tactical operation as well as the support elements.
Simultaneity:
a function of time, confronts opponents with multiple actions occurring at once, disrupting their cognitive function as they process through the OODA loop. Multiple actions overload adversaries' control systems and this provide a tactical advantage to the tactical forces.
Endurance:
the ability to survive and persevere over time. Swift tactical response may be desirable; however a swift response is the exception for most call outs. To succeed, tactical forces must prepare to conduct operations for protracted periods.
Command & Control Development
The concept of mission command requires
good policy, team structure, strong leadership
and
training.
Policy:
tactical teams must operate under department policy which is the foundation for clear function and operations. These policies must be provided to each individual officer and they must be held accountable when they act outside of these policies. Overlooking a minor offense may bring you a larger problem in the future if left uncorrected. Act upon any recognized deficiencies your tactical officers demonstrate. Addressing your officer's deficiencies should be done in a positive manner, as your goal is to improve the officer's capabilities. Officers from your team will appreciate this approach since it is fair and keeps everybody safer.
Team Structure
: it is very important to provide a foundation of structure to your team. This includes a clear chain of command. Teams should be designated into multiple squads. Many teams operate as one squad and I have seen this system fail more often than not when responding to terrorist attacks in large scale training exercises. The reason is a single tactical commander won't be able to deliver the same level of planning and execution as a team with a deep command structure. My tactical team for example has multiple layers of command in the structure of our team. It was designed to mirror the Army Platoon system.
Here's how our 23 officer team is structured:
Executive Commander: administrative function.
Team Commander: responsible for all tactical planning, training & team functions.
Entry Team Leaders: (2) team leaders & (2) assistant team leaders, one team leader for each squad, two squads of ten officers. Each Entry Team has an Assistant Team Leader whom may be the Team Leader on any tactical operation. Responsible for tactical execution of their assigned squads.
Sniper Team Leader (1) and Assistant Sniper Team Leader (1). Responsible for tactical execution of their 6 officer sniper/observer teams.
Crisis Negotiator Team Leader (1) and Assistant Crisis Negotiator (1). Responsible for negotiations operations of their 8 officer team.
Strong Leadership: some individuals appear to be "born leaders" while other individuals can be developed into leaders, but a solid foundation of "character" is essential in any successful leader. Some qualities in an individual's makeup, particularly those concerning his integrity and ethical foundation are absolutely essential in the potential leader, and which cannot be added through schooling or experience. Good judgment, and common sense, is an absolute requirement for successful combat leadership. The ability to perform well in formal training, while not a negative characteristic, is a less important factor for a combat leader. In particular, the leader must have a well-developed and practiced ability in making decisions under pressure.
"Leadership is intangible, and therefore no weapon ever designed can replace it."
-General Omar Bradley

Training:
develop your team leaders and officers by allowing them to do their jobs. When a subordinate is free to do his job, he perceives this as trust and confidence from his commanders and takes more pride in his job, himself, and the team's goals and objectives. Delegation of tactical authority, training development & implementation and the proper use of personnel develops future leaders. This should be the goal of every commander.
"I would caution you always to remember that an essential qualification of a good leader is the ability to recognize, select, and train junior leaders."
-General Omar Bradley

When confronted with a tactical crisis such as the one the Hutaree planned on Michigan's law enforcement officers you must be prepared. We train in many different tactics, we have many different tools that provide numerous options that give us a tactical advantage, we train hard, but all of that won't make a difference if you don't have "command & control" of your team and the tactical crisis you are confronted with. The experience I gained in the Army and the lessons I have learned over the years as a swat commander taught me one thing, the United States Military knows how to fight an enemy. Consider doing what I did and apply the military's mission command to your team and watch them all grow as leaders.
Stay safe,
Sgt. Glenn French
Glenn French, a Sergeant with the Sterling Heights (Mich.) Police Department, has 22 years police experience and currently serves as the Team Commander for the Special Response Team, and Sergeant of the Sterling Heights Police Department Training Bureau. He has 14 years SWAT experience and served as a Sniper Team Leader, REACT Team Leader, and Explosive Breacher.





Glenn has instructed basic and advanced SWAT / Tactical officer courses, basic and advanced Sniper courses, Cold Weather / Winter Sniper Operations and Active Shooter Response courses, Tactical Lifesaver Course and others. Sgt French served in the U.S. Army. During his military tenure Sgt French gained valuable experience in C.Q.B., infantry tactics and explosive breaching operations. He is the author of "Police Tactical Life Saver" and President of www.tacticallifesaver.org.




Special Forces History
Special Forces History
with Charles Woodson

Green Berets Project: Clyde Sincere Interview 7
Chuck Woodson is the President and CEO of Sunwood Entertainment Corp, an independent production company, dedicated to creating a platform that brings great stories, targeting the youth, to the marketplace utilizing the internet.

One of Chuck¹s projects, The Green Berets, currently in production, is being slated for a documentary series, graphic novel series, and dramatic I.P.T.V. series. Chuck has started interviewing Active Duty members, and is looking for more great real life stories from current day U.S. Army Special Forces operations to include in his series.

FIND US ON THE INTERNET

Channel:https://www.sofhistorychannel.com

Tumblr:https://sunwood.tumblr.com/

Twitter:https://www.twitter.com/sunwoodentrtain

Website:https://www.sunwoodentertainment.com
Combat Survival

7 Lessons of Self-Defense



With over 28 years of martial arts experience I have done a wide variety of reading and training in various styles. For the last 15 years I have been teaching the following concepts to soldiers, law enforcement and civilians in an effort to instill in them some sense of the "art" in martial arts which is widely discounted and/or overlooked today in the local strip mall karate club. The following seven lessons I adapted and modernized and they have their foundation stems from Shyun Kwang Longs Cardinal Rules of Mantis Kung Fu. These lessons have been adapted to fit Self-Defense or fighting in general and can give insight to anyone who studies them, and applies them in their training regimen. As you begin to fully understand them you will be able to gain a more profound understanding of what realistic Self-Defense is all about.

Lesson 1: Self-Defense is a process of continuous motion, with each movement giving birth to the next. Fighting involves many variables such as your opponent's size, martial arts background, skill level, and so on. Consequently, it is naive to depend on one technique to work perfectly against every opponent in every situation.

Lesson 2: Close in on the enemy with the long hand, and then destroy him with the short hand. Self-Defense makes use of both long -range and close-range fighting. It teaches a full arsenal of kicks and hand strikes, which by themselves would make a very effective system, but when those techniques are combined with long-range moves, it makes a very powerful and formidable science. The purpose of the longhand is to break through your opponent's defenses so you can move to an advantageous position behind or beside him. From one of those spots you can deliver the shorthand attack to a vulnerable target and then choose a finishing technique based on the reaction of the previous strike(s).

Lesson 3: Attack high to open low; attack low to open high. The principle of attacking high before you attack low manifests itself in the simple and advanced teachings of any Self-Defense system. It works by causing the opponent to shift his concentration to one area while another is being attacked. To successfully apply this principle, you must move with your opponent by changing your body posture and position to match his. You must also be able to instantaneously switch the levels from which you launch your attacks.

Lesson 4: Attack right, defend left, Attack left, and defend right. Whether you are attacking or defending, you must keep the vulnerable parts of your body protected. When you strike with your right hand, you should keep your left hand in a position to protect. Also to bolster your defenses you should use snapping techniques to inflict the maximum damage attainable in the fastest time, this way your striking arm will be back in position for a possible sudden counter.

Lesson 5: Attack and defend simultaneously. Any action always contains the potential for its opposite. Attacking and defending is not easily differentiated in Self-Defense situations because they are considered parts of a whole. When you attack you keep defense in mind. This may sound paradoxical, but realize every time you successfully block a strike, you send the attack back to its source. When an opponent feels your impending attack and resists, you should not directly oppose his force; instead, you should reverse direction to flow with his momentum. This saves time and much needed energy, because you flow in harmony with him and use his own power against him. To reverse an opponent's force, you must develop sensitivity to an attacker's movement. Once you learn to relax your hands, arms, and entire being you will be able to feel his strike before it actually takes place. As soon as you detect movement, follow his attack and at the same time protect yourself.

Lesson 6: Don't think, FEEL. As Bruce Lee said to his pupil in Enter the Dragon "Don't think, just feel" This cannot be more true in a Self-Defense situation. Action must be natural and reflexive. Keeping your body natural and responsive enables you to react quickly and spontaneously. You should strive to possess a calm yet alert mind-set and stay physically and emotionally balanced. When you attack, calmly focus first on the most obvious target available and exploit it. This will open another target below the one just struck, relaxed and calmly feel your way to the next target. While incorporating more relaxation techniques in training you will begin to reach a point of fluidness in motion. Then your techniques will seem to hit by themselves.

Lesson 7: In stillness there is action; in action there is stillness. Although paradoxical, this lesson holds the deepest potential for application. Meditation takes place in stillness, which is found in mind and body. Within this stillness the flow of kinetic energy can literally be felt. This kinetic energy moves through the body like water through a series of hoses. The more constricted the hoses are, the slower the flow of kinetic energy. When the body is relaxed, this opens the potential for more kinetic linking which means more energy can be circulated. At the same time, sensations such as rooting can be more easily felt and applied to fighting. Rooting is a method of keeping your body in balance through relaxation. It feels as though every part of your body is hanging while your feet a firmly planted. Your roots however, do not hold you down; the roots keep you centered while you attack. Stillness in action also comes into play. When your opponent punches at you, you calmly await the strikes arrival. When it is in range you flow with the movement waiting for an appropriate time to counter and in that instant you capitalize on the openings presented. In the classic Tao Te Ching, Lao Tzu wrote "The source of action is stillness." In the same way that a quiet snow can give way to a rushing river, a calm fighter can give way to a fluster of techniques. The more efficient you are at remaining relaxed, the more potential you will have for greater speed, power and accuracy.


About the author: Jason Hunt is the President of Frontier Christian University and the Chief Instructor for Hunt Survival, Inc. a wilderness & rescue training institute based in Kentucky.

Warrior's Wisdom

Military Maxim
"When an army is inferior in number, inferior in cavalry, and in artillery, it is essential to avoid a general action. The first deficiency should be supplied by rapidity of movement; the want of artillery by the nature of the maneuvers; and the inferiority in cavalry by the choice of positions In such circumstances the moral of the soldier does much."

-
Napoleon

A smaller force when out numbered must make up in activity for what it does not have in numbers this same principle holds true in business, sports and other endeavors.
Special Product Coupon
March Madness
Get 20% OFF the price of t-shirts when you order 4 t-shirts or more. Valid during the whole month of March!
1 per customer.

Use coupon code marchmad
before completing your purchase!
Valid from 03/01/2012 to 03/31/2012.
Offer excludes night vision products, climbing gear,
already discounted items & bulk unit orders.
Aesop's Fables
THE FLIES AND THE HONEY-POT
A number of Flies were attracted to a jar of honey which had been overturned in a housekeeper's room, and placing their feet in it, ate greedily. Their feet however, became so smeared with the honey that they could not use their wings, nor release themselves, and were suffocated. Just as they were expiring they exclaimed, "Oh foolish creatures that we are, for the sake of a little pleasure we have destroyed ourselves."
Pleasure bought with pains, hurts.
Embroidered Items
| | |
| --- | --- |
| 5th Group Special Forces Vietnam | Skull with Dagger and Arrows |
| | |
Featured T-Shirts
Special Product Coupon
Spring Savings
Get 5% Off on orders over $100, during the month of March. Maximum one per order and one per customer.

Use coupon code springdeal
before completing your purchase!
Valid from 03/01/12 to 03/31/12.
Offer valid only for section t-shirts,
clothing & gifts, and exclude razor bits
7.62 designs & bulk unit orders.
Quotes & Jokes

Tom Landry
Leadership is a matter of having people look at you and gain confidence, seeing how you react. If you're in control, they're in control."
Fred Fiedler and Martin Chemers
The quality of leadership, more than any other single factor, determines the success or failure of an organization."
John Quincy
A leader leads by example, whether he intends to or not. - John Quincy ...
John Quincy
If your actions inspire others to dream more, learn more, do more and become more, you are a leader.

John C Maxwell
A leader is one who knows the way, goes the way, and shows the way.
Rosabeth Moss Kantor
Leaders are more powerful role models when they learn than when they teach.

Theodore Roosevelt
The best executive is the one who has sense enough to pick good men to do what he wants done, and self-restraint to keep from meddling with them while they do it.
Benjamin Franklin
He that cannot obey, cannot command.

John C. Maxwell
All Leadership is influence.

Peter F. Drucker
Leadership is not magnetic personality, that can just as well be a glib tongue. It is not "making friends and influencing people", that is flattery. Leadership is lifting a person's vision to higher sights, the raising of a person's performance to a higher standard, the building of a personality beyond its normal limitations.
General Colin Powell
Great leaders are almost always great simplifiers, who can cut through argument, debate, and doubt to offer a solution everybody can understand.

Jim Rohn
The challenge of leadership is to be strong, but not rude; be kind, but not weak; be bold, but not bully; be thoughtful, but not lazy; be humble, but not timid; be proud, but not arrogant; have humor, but without folly.
Theodore Hesburgh
The very essence of leadership is that you have to have a vision.

Eleanor Roosevelt
A good leader inspires people to have confidence in the leader, a great leader inspires people to have confidence in themselves

Harold Geneen
Leadership cannot really be taught. It can only be learned.
Erskine Bowles
Leadership is the key to 99 percent of all successful efforts.
Norman Schwarzkopf
Leadership is a potent combination of strategy and character. But if you must be without one, be without the strategy.
Winston Churchill
The price of greatness is responsibility.

Walter Lippman
The final test of a leader is that he leaves behind him in other men, the conviction and the will to carry on.

Peter Drucker
The leaders who work most effectively, it seems to me, never say "I." And that's not because they have trained themselves not to say "I." They don't think "I." They think "we"; they think "team." They understand their job to be to make the team function. They accept responsibility and don't sidestep it, but "we" gets the credit.... This is what creates trust, what enables you to get the task done.
Peter Drucker
Featured Tactical Gear

Micron II Tanto
Product #SDSSGFF91
$24.95
Much like the original Micron, the Micron II Tanto offers slim line convenience, key chain readiness, sophisticated Tanto design, and can hide in a pocket and appear at whim. Unlike the original, the Micron II Tanto has the added convenience of a strong lockback mechanism.
Blade: 2.25"
Overall: 5.00"
Closed: 2.75"
Weight: 1.40 oz.
Click Here to View Item and Full Specifications >>
---
MOLLE SHOTGUN / AIRSOFT AMMO POUCH

Product #R40226

$19.80
600D PVC COATED POLYESTER
MOLLE COMPATIBLE
FOLDS CLOSED WITH HOOK & LOOP SIDE CLOSURES
TOP FLAP WITH SNAP AND HOOK & LOOP CLOSURE
25 ELASTIC SHELL LOOPS HOLD 12 GAUGE SHELLS, 20 GAUGE SHELLS, AIRSOFT SHELLS AND MORE
1.5" D X 4" W X 8.5" H
21.75" LONG WHEN OPEN
Click Here to View Item and Full Specifications >>
---
ROTHCO 25L TACTICAL BACKPACK COYOTE
Product #R2748
$28.50
25L TACTICAL BACKPACK WITH ADJUSTABLE PADDED SHOULDER STRAPS AND ADDITIONAL BACK PADDING
LARGE MAIN COMPARTMENT WITH DRAWSTRING CLOSE AND ELASTIC TOP COVER WITH QUICK RELEASE BUCKLES
EACH SIDE HAS LARGE ZIPPERED POUCH
TOP COVER WITH ZIPPERED POUCH
Click Here to View Item and Full Specifications >>
---
Jumpable Recon Ruck Pack
Product #TAG813300
$561.95
The Jumpable Recon Ruck is made for long range extended field operations. The body of this ruck is the same size as the old military large mountain ruck but that is were the similarities end. There are 8 external pouches sewn to the ruck. The bottom 3 in the center are sized to work with all military static and free fall harnesses. The 2 pockets on the left and right sides are edge sewn to allow skis, ski poles and snow shovel handles to be securely stowed when not needed. The Pouch on top of the ruck is removable and made for Panasonic Field Tough books. The pouch can be quickly removed and carried via hidden shoulder carry strap. The ruck has a large opening with rain fly and draw string closure. There are 100oz. bladder pockets sewn to inside left and right sides of the pack. Each side has an opening for the hose allowing you to drink while on the move. Large radio pocket can fit all military man pack radios. Heavy duty shoulder straps, kidney pad and AGAF frame are all included. Made in America.
Weight 8.5lbs (including shoulder straps, kidney pad and AGAF frame).
Click Here to View Item and Full Specifications >>
Featured Items

Army Strong Authentic White Football Jersey
Product #BFCNH-AS-FB-WH
$
77.95
Double Sewn Polyester Dazzle Fabric Shoulders
100% Heavyweight Polyester Tricot Mesh
Contrasting Lycra Side Inserts and V-Neck Collar
Tackle Twill Sewn on Numbers and Letters
High Quality Embroidered Patches and Insignias
100% Woven Battlefield Collection Jock Tag
Officially Licensed Product of United States Military
Available in Sizes M, L, XL, XXL
Click Here to View Item >>
---
Black Ops Brick Balistic Glasses
Product#WX854
$
84.00
LARGEST DESIGN IN THE CLIMATE CONTROL™ SERIES
EXCEEDS ANSI Z87.1-2003+ HIGH VELOCITY SAFETY STANDARD
VIRTUALLY UNBREAKABLE TRILOID™ NYLON FRAME
REMOVABLE FACIAL CAVITY™ SEAL FOR ADDED FUNCTION
NEOPRENE TEMPLE SOCKS PROVIDES STABILITY AND COMFORT
Fits Head Sizes: M - L
Includes the following
* Removable Facial Cavity Seal (855G)
* Large Black Zippered Case (DN112)
* T-Peg Elastic Strap (EH409-4)
* Leash Cord (EH-492-1)
* Cleaning Cloth (A425)
Click Here to View Item >>
Featured Watch
AquaForce Multi-Function Digital Watch
Product #F26-0052
$24.00
Stainless Steel Metal Back
12 and 24 Hour Display
50M Water Resistant
Illuminating Light
PU Rubber Strap
Day and Date
Digital Watch
Stopwatch
Chime
Alarm
Clichés of Socialism
"The United States Constitution
was designed for an agrarian society"
"The President is hobbled in hi task of leading the American people to consensus and concerted action by the restrictions of power imposed on him by a constitutional system designed for an eighteenth century agrarian society far removed from the centers of world power."
What is meant by "consensus" in this context? It means the shaping of a unified, common collective by Executive action in order that the nation can speak with one voice - the voice of the President. This project, if successful, would put an end to freedom of speech and freedom of the press for obviously there can be no nationwide "consensus" when everyone is free to advance his own opinions.


What is meant by "concerted action" in this context? It means, among other things, that the U.S.A. shall act as a disciplined body under centralized direction. Economically, the President would determine where, in the markets of the world, our largess would be bestowed and withheld and under what conditions. This would substitute a single arbitrary exchange mechanism for untold millions of exchanges. How can there be a "concerted action" of a whole nation when anyone is free to buy and sell whatever and wherever and to whomsoever he chooses?


This would spell an end to what is left of the free market in this country. Further, it would sound the death knell of a good or a service before he can be said to own it. The call for "concerted action" is the call for all-out federal control.


The best instance of "consensus" and "concerted action" among nations of the world today is Russia. There the Premier of the Supreme Soviet is not "hobbled in his task of leading the

...

people to consensus and concerted action by the restrictions of a constitutional system designed for an eighteenth century agrarian society."

In Russia-still substantially agrarian-both the consensus and the action are whatever Premier Khrushchev dictates. Freedom of choice as to how one employs himself, dictates. Freedom of choice as to how one employs himself, what he does with the fruits of his own labor, and what and with whom he exchanges is not for each one to decide; it is a decision of THE ONE! There indeed, is consensus and concerted action.


The Constitution was not designed for an agrarian society. Rather, it was designed by those who lived in an agrarian society for the purpose of securing individual justice and individual rights regardless of technological changes. The Constitution more severely limited the scope and powers of government than had ever before been the case, and this curbing of coercive measures largely explains why our eighteenth century agrarian economy developed into today's industrial economy. Limiting political power to the inhibition and penalizing of fraud, violence, misrepresentation, and predation-in short to the invoking of a common justice-left no organized force standing against the release of creative energy. As a result, creative human energy was released here on an unprecedented scale and, thus, our industrial economy.


Asking for arbitrary political here at home as a means of combating arbitrary political power elsewhere is not commended by the historical record. In industrial or market competition it is the free nation which excels. No nation ever came close to approaching our position international competition. Only recently, as arbitrary controls increase, are we finding it more difficult to compete.


Militarily, the record is similar. History books, for the most part, are accounts of authoritarianism, one authoritarian battling another authoritarian. Then came the freest nation of all time-authoritarianism held in check by the Constitution. A free people became an economically strong people. An economically strong and thus a versatile people have had a record from Bunker Hill onward of making the authoritarians hand over their swords.


The Constitution was definitely and specifically designed to hobble all people who are so foolish as to think themselves capable of leading others by compulsion. It so functions today to an extent exasperating to the authoritarians-which is why they want to get rid of it. Blessings on the agrarians who designed it. Let us hope we have sense enough not only to keep what we have left of it, but to restore to it the restrictions against incompetence which already have been taken from it.
What Has Really Changed?
What a wonderful country
this could be...

Articles
Act of Valor: Why the Movie Was Made
The story within the story, Part 2 of 3
A scene from Relativity Media's upcoming release, "Act of Valor," which premieres nationwide on Feb. 24 and is rated R. Relativity Media LLC. photo


A scene from Relativity Media's upcoming release, "Act of Valor," which premieres nationwide on Feb. 24 and is rated R. Relativity Media LLC. photo

Now for a truly behind-the-scenes look at Act of Valor. Few websites have as much of an "informed readership" as this one, so the "story within the story" about how Act of Valor came to be made in the first place will resonate with you. It is a story that is as intriguing as the movie and novelization.

"Like many things that still affect us today, it started on Sept. 11, 2001, a day that is riveted into the consciousness of all Americans. That day caused a national catharsis and forced civilian and military leaders within the Department of Defense to begin to rethink how to deal with threats to the nation in the 21st century."

As this re-evaluation began to take shape, one thing became immediately apparent: the U.S. Special Operations Command - or SOCOM - would have a vastly more prominent role in dealing with emerging threats to the United States. As explained by Rear Adm. Denny Moynihan, the Navy's Chief of Information, in a Feb. 19, 2012 article in the New York Times:

Every four years the Defense
U.S. Navy SEALS are engaged in a personnel recovery mission in Relativity Media's upcoming release, 'Act of Valor'. Photo courtesy of IATM LLC Copyright 2011 Relativity Media, LLC

Department looks at itself and says, "What is it that you need to be moving forward and where do you think you are?" For the Navy and the SEAL community it was, "Hey, you need 500 more SEALs," and that launched a series of initiatives to try to attract more people. This film was one of those initiatives.

For the U.S. Navy SEALs, knowing they would have to have 500 more enlisted personnel serving in SEAL teams within five years presented a unique challenge. As all SEALs know, you cannot create SEALs overnight. The U.S. Navy SEALs received an incredibly tough challenge. But true to their nature, they didn't shrink from that assignment. But how tough an assignment was it?

Given the number of young Americans who are qualified in all respects for military service of any kind, the fact U.S. Navy SEALs are all male, and especially the fact that the rigors of SEAL training result in an attrition rate of over 75 percent of thoroughly-screened candidates for this training, the U.S. Navy SEAL community recognized that it was facing a daunting challenge.

"How daunting was this challenge? The average net growth of the SEAL force for the previous decade had been fewer than five new SEALs each year, far short of the 100 new SEALs required annually for five consecutive years in order to reach the Navy's goal for SEAL manning. To address this challenge, in late 2005, the Navy Special Warfare Command reinvigorated the Naval Special Warfare Recruiting Directorate and charged it with accelerating its efforts to tell the Naval Special Warfare story. As part of this effort, the directorate reached out to the civilian media community."

Previous efforts in the first half of the decade to tell the SEAL story, while somewhat successful, had been fraught with a number of issues. As Navy SEAL Capt. Duncan Smith explained it to The New York Times, "There's quite a bit of misinformation in the way movies usually represent us." In November 2006, the Navy and the Naval Special Warfare community invited production companies to submit proposals for projects where the Navy would grant access to Naval Special Warfare training sites for projects that would support SEAL recruiting. As part of this agreement, all costs needed to be funded by the production company.

It is important to note how
U.S. Navy SEALs open fire on the enemy in "Act of Valor." Photo courtesy of IATM LLC Copyright 2011 Relativity Media, LLC

unique this outreach was. While the military and the media have worked together on many projects (such as Top Gun, Red Dawn, Men of Honor, and others), for the most part, the military and Hollywood have held each other at arm's length. As John Anderson explained in his article, "On Active Duty for the Movies (Real Ammo)," in The New York Times:

After a decade of war and with the economy shaky, the services are seeking to remold themselves into a leaner, less-expensive force made up of soldiers capable of special-operations missions involving cyberspace and intelligence. How better to attract those elite fighters than with a film about an elite force? Hence Act of Valor, which is opening Friday, Feb. 24, 2012. It actually originated with the Navy in 2006.


---
The "Bamboo Fleet" Shuttle
Service to Corregidor

A Beech UC-43 in flight. The UC-43 was similar to the Beech Staggerwing biplane used by the Bamboo Fleet in early 1942. U.S. Air Force photo




Written by: Dwight Jon Zimmerman on February 16, 2012



"Brad, I thought you'd get through. Glad you made it. Congratulations."


-Lt. Gen. Jonathan Wainwright
to Bamboo Fleet pilot Capt.William Bradford



In February 1942, with U-boats sinking ships one after the other in the Atlantic and the Caribbean, the surrenders of Hong Kong and Singapore, the conquests of Thailand and Burma, the defeat of the Allied fleet in the Battle of the Java Sea and the imminent fall of the Dutch East Indies, American home front hope and attention was focused on the Philippines. There the bulk of Lt. Gen. Douglas MacArthur's combined American and Philippine forces were holding out on the Bataan peninsula and Corregidor Island against the Japanese juggernaut. What the American public and the defenders on Bataan and Corregidor did not - and could not - know was that American military leadership had written off the defenders. Strategic defense was the order of the day. The Philippines would receive only token assistance through submarine, surface ship, and air blockade running. Among the heroic groups that risked their lives to bring medicine and other vital supplies to the besieged troops was a ramshackle collection of obsolete airplanes called the "Bamboo Fleet."

Based at the air base in Del Monte
A still from a captured Japanese propaganda film shows what is believed to be the wrecked Bellanca "Old Number Nine," on the side of the runway at Kindley Field, Corregidor. "Jitter Bill" Bradford flew the Bellanca as part of the Bamboo Fleet. Japanese Government photo

on the southernmost Philippine island of Mindanao, the Bamboo Fleet was operated by Captains Harold Slingsby, Dick Fellows, Joe Moore, Harvey Whitfield, and Bill Bradford. Of the group "Jitter Bill" Bradford was the most experienced pilot, having spent ten years as senior pilot and general manager for the Philippine Air Taxi Company (Patco) transporting people and cargo around the 7,000-plus islands in the Philippines. According to John Toland's But Not in Shame, he would tally his 5,000th hour flying on a Bamboo Fleet mission ferrying out of Corregidor a cargo of live cinchona seed, used in making the anti-malarial drug quinine. When war began, the Army Air Corps purchased a variety of civilian aircraft, including Patco's, and Bradford and other civilian pilots were commissioned captains in the Air Corps.

"Jitter Bill came to be looked upon as the chief of the Bamboo Fleet," Lt. Col. William E. Dyess later wrote in his book The Dyess Story. "He was a character I'll long remember. His nickname came from no lack of nerve. No one in the squadron was braver. Day after day he flew the condemned and unarmed Bellanca, taking missions that sometimes appeared to be hopeless. But he was jittery; there is no question about that. He probably was the only man in the air forces who would try to wind his eight-day panel clock six times an hour. His speech was jerky and rapid-fire. You'd walk toward him to say something, but before you'd get your mouth open he would pop out with: 'You bet, boy! That's right. That's right.' And Bill ended all conversations, no matter the topic, with: 'Thank you, boy. Good luck, boy.'"

The Bamboo Fleet consisted of three obsolete, fixed undercarriage airplanes. One was a Bellanca Pacemaker nicknamed "Old Number Nine," a high-wing, cabin fuselage airplane capable of carrying seven passengers and notable for its long range (Pacemakers had set several long-distance records). It had a top speed of 180 miles per hour, and an average range of 900 miles. The second plane was a Waco UC-72, a designation given to all Wacos purchased by the AAF in 1942. A cabin fuselage biplane capable of carrying five passengers, it had a range of 600 miles and a top speed of 150 mph. Export Wacos provided valuable service for the British Long Range Desert Group during their operations in North Africa. The Waco Company would go on to build gliders used in airborne operations later in the war. The last plane was a Beech "Staggerwing" biplane. It was the fastest of the group, which wasn't saying much. It had a top speed of 212 mph and a range of 670 miles.


One of the 44 Waco civilian aircraft commandeered by the USAAF and designated as the UC-72. A plane similar to this was used in the Philippines by the Bamboo Fleet. U.S. Air Force photo

All three were at the end of their operational life; in fact the Bellanca had been condemned for private flying. But so desperate was the situation that they were pressed into service. With faster, armed Japanese aircraft a constant danger during the day, the Bamboo Fleet literally became a "fly-by-night" operation. The dangerously overloaded planes took off at dusk on hair-raising flights timed to reach their objective just as dawn was breaking. Sometimes missions were so urgent that the pilots had to fly during the day. When that happened, they would island-hop, flying at an altitude of no more than 500 feet, often just 100 feet above the water's surface. Bamboo Fleet mechanics claimed that pilots returned with leaves and seaweed stuck to their undercarriages.

By April MacArthur was in Australia and Lt. Gen. Jonathan Wainwright was in command in the Philippines, the Japanese controlled key islands between Corregidor and Mindanao, and only Old Number Nine was operational. On April 18 a message came from Corregidor urgently requesting medical supplies.

"It became necessary that someone fly a plane of the Bamboo Fleet to Corregidor on an urgent matter, then proceed to Mindanao," Dyess wrote. "The rub was that it would be necessary to refuel at the field on the island of Panay. And there was no way of knowing whether or not that field was in our hands or the Japs' [according to Destination Corregidor, written by Robert M. Underbrink some 30 years after the war, Bradford actually had to refuel at Bacolod on Negros, but the concern was the same]. The fellows voted to cut for low card to determine who would get the job. Bill frowned at this and told two friends he did not intend to let any young and less experienced pilot get the assignment. After some talk Bill brought in the deck, which was shuffled and spread out. Everyone reached for a card. Bill took his and stepped far back. When the showdown came, he walked back to the table and laid down the deuce of clubs. The others were suspicious, but Bill shook a finger at them. 'You boys just ain't livin' right; ain't livin' right,' he said. Then he went off to warm up his plane. The last I saw of Bill he was industriously winding his panel clock."

Though Bradford had told his commanding officer that his chances of getting to Corregidor were "exactly zero," he reached the island and was met by a grateful Wainwright. On the return leg the Bellanca, with Bradford and two passengers aboard, crashed during takeoff. Everyone on board survived and was evacuated a few days later when two Navy PBY Catalina flying boats successfully ran the blockade, but it was the Bamboo Fleet's last mission.


---
When Willie and Joe's Creator
Met "Blood and Guts" Patton

Cartoonist Sgt. Bill Mauldin at work, ca. 1945. Library of Congress photo




Written by: Dwight Jon Zimmerman on February 25, 2012



By 1945, Stars and Stripes cartoonist Sgt. Bill Mauldin was famous, and his creations, the G.I.s Willie and Joe, were popular with troops throughout the European Theater of Operations - with one singular and vocal exception: Lt. Gen. George S. Patton, Jr.

For the spit-and-polish Patton, Mauldin's unshaven and unkempt fictional G.I.s that were a regular feature in Stars and Stripes and several newspapers in the United States, were "a disgrace" that subverted discipline. Mauldin's characters had been a bone of contention for Patton since 1943, when Mauldin, then a member of the 45th Division in Patton's Seventh Army, drew them for the division newspaper during the Sicilian campaign. An incensed Patton demanded that its commander, Maj. Gen. Troy Middleton, fire Mauldin. Middleton, who knew how to handle his mercurial boss, said he would ... provided Patton put the order in writing. Patton backed down.

But that didn't mean Patton
Stars and Stripes cartoonist Bill Mauldin was unafraid of lampooning anything or anyone in his "Up Front" cartoons. In this one he is taking aim at Gen. Patton by mocking his requirements for parade ground order even in the midst of combat operations. Star and Stripes cartoon by Bill Mauldin


had given up the fight. Since that time, Patton had periodically complained to Gen. Dwight D. Eisenhower's headquarters, SHAEF, about Mauldin's creations, demanding that they be banned. Things came to a head in late February 1945 when Mauldin, on assignment for Stars and Stripes, visited Patton's Third Army area and promptly ran afoul of the MPs for being "out of uniform." Mauldin had forgotten his helmet. Things quickly went downhill from there. After returning to the Stars and Stripes office, an incensed Mauldin responded with a biting cartoon skewering Third Army and its commander's nit-picking regulations and fines.

Looking to smooth things over before they got completely out of hand, Eisenhower's Navy aide, Capt. Harry Butcher, suggested to Patton that he and Mauldin meet and clear the air between them. After threatening to throw Mauldin "in jail for thirty days" if he came back into the Third Army area, Patton agreed that Butcher's idea sounded reasonable and a meeting was scheduled.

Butcher personally briefed the nervous Mauldin on how to look. Butcher recalled, "I told him that when he went to Patton's office to make certain his uniform was neat and tidy and that he was in proper dress for the Third Army area. . . . He must stand at attention and salute smartly. If he did less, the interview was doomed to failure."

A few days later Mauldin, a frightened, baby-faced twenty-five-year-old, was ushered into Patton's office, convinced he was on "a suicide mission." Mauldin promptly snapped to attention and delivered his best parade ground salute.

Patton, in full medal-bedecked uniform, with more general's stars on his collar and shoulders than Mauldin could count, rose from behind his desk and motioned Mauldin to sit on a nearby chair. Patton then took for himself a large chair beside Mauldin that Patton's pet English terrier, Willie, had vacated.

For forty-five minutes, Patton fulminated about "those god-awful things you call soldiers," complaining that, amongst other things, they look "like goddamn bums." Glaring at Mauldin, he growled as deeply as his high-pitched voice allowed, "What are you trying to do, incite a goddamn mutiny?"


Lt. Col. Lyle Bernard of the 30th Infantry Regiment, discusses military strategy with Lt. Gen. George S. Patton, near Brolo, Sicily, 1943. Gen. Patton's adherence to spit and polish clashed with Bill Maudlin's depiction of the average G.I. National Archives photo

At one point during Patton's tirade, which included, Mauldin later admitted, an inspirational military history lesson, Mauldin unconsciously reached out to scratch Willie's ear. Then he stopped. Mauldin was reaching out with his drawing hand, and he was convinced that a snap of Willie's powerful jaws would accomplish for Patton what all the general's letters to SHAEF had failed to do - put an end to Willie and Joe cartoons.

Patton had so dominated their appointment that Mauldin had only a couple of minutes to give his side that, needless to say, left Patton unmoved. They parted, agreeing to disagree.

But Patton still could not let the issue lie, and SHAEF again was the recipient of his complaints regarding Mauldin's creations. Finally, Eisenhower had had enough of this distracting tempest in a teapot. He wrote an official letter to Deputy Theater Commander Lt. Gen. Ben Lear that said, in part, "A great deal of pressure has been brought on me in the past to abolish such things as Mauldin's cartoons. . . . You will make sure that the responsible officer knows he is not to interfere in matters of this kind. If he believes that any specific violation of good sense or good judgment has occurred, he may bring it to my personal attention."

On April 11, 1945, an amused Butcher wrote in his diary, "It looks to me that General Patton may now admit he has lost the battle of Mauldin."


---
Japanese Submarine and


Air Attacks on the American Mainland
Submarine, aircraft, and balloon bomb attacks caused localized panic but achieved little damage
The Japanese Type B1 submarine I-26 underway during World War II. The Type B1 submarine is the same class as the I-17, which shelled the Ellwood oil fields. State of Oregon photo




Written by: Dwight Jon Zimmerman on February 23, 2012



"Another shell whined over my head and landed in the canyon on the Staniff place which is across the road from us."


- Lawrence Wheeler, proprietor of Wheeler's Inn



At 7:00 p.m. Pacific Time on
The I-15, a Japanese Type B1 submarine at its initial sea trials. The I-15 was the same class submarine as the I-17 that shelled the Ellwood oil fields, and the I-25, which launched Fujita on his bombing mission against Brookings, Oregon. Government of Japan photo

Monday, Feb. 23, 1942, Washington's Birthday, Americans living in and around the Ellwood oil fields of Southern California settled themselves down to listen to President Franklin D. Roosevelt's fireside chat that would update them on the war. About fifteen minutes into the president's speech, the residents in the Ellwood area got their own "breaking news" about the conflict when they found themselves under artillery attack. The artillery fire was coming from the Japanese submarine I-17, located about a mile off the coast. It was the first foreign attack on American mainland soil since the War of 1812.

Directing the attack was Imperial Japanese Navy Cmdr. Kozo Nishino, captain of the I-17, a Type B1 submarine, distinguished for its speed (23.5 knots surface, 8 knots submerged), long range (14,000 nautical miles), size (356.5 feet long, 30.5 feet beam), and ability to carry a seaplane in a special hangar and a 140 mm cannon.

Following Pearl Harbor, the I-17 was one of seven Japanese submarines ordered to continue on to the United States West Coast and sink shipping. The I-17 sank the tanker SS Emidio off Cape Mendocino. The submarine carried a 140 mm cannon and Nishino's plans were to use it to shell coastal cities on the evening of Dec. 24. That mission was aborted due to a high level of air and sea patrols.

The I-17 returned to its base at Kwajalein for resupply, where Nishino got new orders. Before the war he had been a tanker captain regularly ferrying oil from the Ellwood fields to Japan. His mission now was to bombard the oil complex.


Detail map of Ellwood oil fields showing the location of the shelling by the I-17 on Feb. 23, 1942. USGS map

When rounds from the I-17's cannon began landing in the Richfield Oil Field Facility on the evening of Feb. 23, workers initially thought the explosions were the result of an accident. Then one of them spotted the submarine. Others in the area also saw the I-17, and soon the Ventura County Sheriff's office began receiving phone calls. The Sheriff's office notified the office of Air District Command Maj. Gen. Jacob E. Fickel. Fickel's office ordered all radio stations in the area to cease broadcasting. Air raid sirens began screaming. Nearby Santa Barbara was blacked out. Promised intercept squadrons, however, never appeared.

Lawrence Wheeler, proprietor of Wheeler's Inn, located in the heart of the oil fields, later said the nearby impact of one shell "shook our building." He dashed outside in time to see another shell explode against a nearby cliff and a third, a dud, land on the neighboring Staniff Ranch.

About 20 minutes after the
Nobuo Fujita with his E14Y "Glen" submarine-launched floatplane. Fujita was the only Axis pilot to carry out bombing raids on mainland America, the so-called "Lookout Tower Raid." Photo via Wikimedia Commons

shelling began, the I-17 ceased firing. As the submarine departed, Nishino radioed Tokyo that he had left the area in flames. In reality, physical damage to the field and facilities was slight, but the panic the shelling inspired was enormous. It added impetus to the demand to relocate and confine Japanese-Americans, and it caused a reorganization of military defenses along the West Coast.

Nishino's action was not the last Japanese attack on American soil. In September 1942, in what came to be known as the Lookout Air Raids, Warrant Flight Officer Nobuo Fujita, flying a floatplane launched from the I-25, on two separate occasions dropped incendiary bombs near Brookings, Oregon, making this the first time American soil came under air attack. Nishino's attack, the Lookout Air Raids, and the panicked reactions they inspired later served as the basis for Steven Spielberg's movie 1941.


A Yokosuka E14Y, of the type Fujita used in his attack on America, is catapulted from an I-25 class submarine. Note the curved shape of the submarine's aircraft hangar in the foreground.

Far more serious and
A Yokosuka E14Y, of the type Fujita used in his attack on America, is catapulted from an I-25 class submarine. Note the curved shape of the submarine's aircraft hangar in the foreground.

dangerous was the Japanese balloon bomb offensive. Starting in November 1944 and continuing to the end of the war, Japan released about 9,000 30-foot diameter balloons, each carrying a 30-pound time-release incendiary bomb. The bombs were carried east on the jet stream, where they were released over American soil. Most landed in the West, but one traveled as far as Maryland. The government was so concerned about the attacks that it imposed total censorship on news about them. It was not until well after the war that stories of the balloon bombs became official. An account of the balloon bomb offensive can be seen on YouTube at: www.youtube.com/watch?v=F01Ps6jhhv0.


Japanese Balloon Bomb Attacks on U.S.
-On a Wind & a Prayer-


In 1982, Parade magazine ran an article about Nishino's attack, suggesting that it was motivated by a desire to get revenge over a humiliating incident that occurred to him in the area during the 1930s. The story, droll in its details involving Noshino's posterior and prickly pear cactus spines, is regarded as apocryphal.


---
What Do You Send Someone on Deployment


Janice Connolly sent this story about the last cruise. The last cruise when family separation takes place, similar to the Army's last deployment.

My wife and I were married while I was in the Navy, just a few short months before my last cruise, and she started bugging me for a list of things to send in "care packages" while I was at sea.

For some reason, I had a hard time with the list, and after she reminded me (again) that I needed to get the list to her before I left, I sat down and wrote her this. I left it with her as she watched me walk down the pier that last time.

It never occurred to me that it would find its way into not one but two newspapers. It was published with an introduction from the editor which called it "shamelessly sentimental." I was a little taken back by the label, but as they say, if the shoe fits...



My love,

You've asked what you can send me while I'm on cruise; those things which I want but cannot get while on the ship thousands of miles away. The list was fairly easy to write. I suspect that it won't be so easy to fill the order.

Please send me autumn. Fill a box with that special chill the evenings get that forebodes the cold of winter, that Jack Frost nip. Add the colors of fall: the yellows, reds and browns of leaves whose cycle of life has ended. Send me the sound they make as you shuffle through ankle-deep blankets of them scattered across the yard. Be sure to wrap some of the fragrant smoke which spirals up from the pile as they burn. Package with it the yellow harvest moon caught in the naked branches of a tree which has begun its winter sleep.

Later you can send me winter. Send me the first heavy snowfall; that muted, magical silence which comes down across the land with the fat flakes that pile up quickly. Don't forget the taste of snowflakes on my tongue, or the dusting of snow caught in your hair like jewels. Send me a blanket of white under a full moon, when the land seems to glow. Send me a snowman, or even better a snow family with a snow-daddy, snow-mommy and little snow children with button eyes, sticks for arms and carrots for noses. Send me an evening in front of a fireplace with hopes and dreams in the flames. Send me some of your warmth, as we snuggle beneath the covers on a cold December night. Icicles, too; long sturdy ones and thin delicate ones.

The holidays, too, I'll want those. Send me Halloween with the little witches, ghosts, cowboys and pirates. Carefully wrap for me the shy voices which whisper "trick or treat" from the little fairies joining in the ritual for the first time. Package them carefully with the louder, bolder cries of the more experienced trolls and Indians hidden safely behind disguises they are sure could fool even their own parents. Send me the smell of freshly carved pumpkins with their funny or horrifying jack-o-lantern grins and snarls. Capture for me some of the more grown-up magic that comes later that one night a year near the witching hour, when after the little ones are tucked in their beds and the house is quiet except maybe for a branch against the window and even grownups get an uneasy feeling that perhaps there are haunts and goblins about in the night.

Save for me the smells of roast turkey and dressing, homemade breads and pies. Send me the smells of Thanksgiving, as the food is cooked all day and the table is piled higher and higher. Send me that quiet sense of pride and accomplishment that rests briefly between setting the table and the feasting frenzy.

Send me a Christmas tree. Not just any tree; a fresh cut tree felled by small hands assisted by mom and dad. Send it to me with fresh cut smell, some lights and sparkles all draped in tinsel carelessly tossed here and there as the young'uns try to outdo each other. Send me a glass of eggnog, ever so gently spiked. Take your sips first, and leave the prints from your lips there on the glass for me to see and taste. Send me that sleepless anticipation of the night before Christmas, when little angels are trying so hard to go to sleep, knowing in their hearts that Santa won't come until they sleep. Share with me a glass of milk and a couple of chocolate chip cookies as we help preserve the fleeting illusions of childhood. Send me the excited shouts as little ones get their first glimpse of the piles of gifts left by St Nick. Send the crinkle and tear of wrapping paper and the oohs and aahs that punctuate each gift as it is exposed and shown around. Send me the hugs as everyone opens the gifts that were "just what I wanted!"

For the last day of the year, send me a quiet evening spent with you as we look forward to another year together, and marvel at all we survived the year before.

Space out the packages, but send me all the changes of season, all the day-to-day worries and joys, all the holidays that I'll miss as I sit halfway around the world from you. Most of all, send me your thoughts and hopes, your dreams and wishes, your smiles and tears.

Most of all, send me your love. God Bless... Ozzie


---
"The Gun Is Civilization"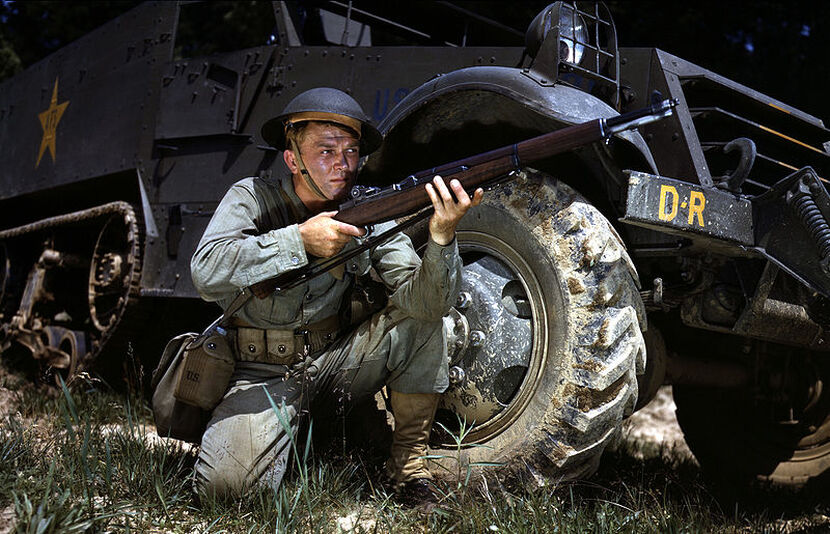 By Maj. L. Caudill USMC (Ret)



Human beings only have two ways to deal with one another: reason and force. If you want me to do something for you, you have a choice of either convincing me via argument, or force me to do your bidding under threat of force. Every human interaction falls into one of those two categories, without exception. Reason or force, that's it.

In a truly moral and civilized society, people exclusively interact through persuasion. Force has no place as a valid method of social interaction, and the only thing that removes force from the menu is the personal firearm, as paradoxical as it may sound to some.

When I carry a gun, you cannot deal with me by force. You have to use reason and try to persuade me, because I have a way to negate your threat or employment of force.

The gun is the only personal weapon that puts a 100-pound woman on equal footing with a 220-pound mugger, a 75-year old retiree on equal footing with a 19-year old gang banger, and a single guy on equal footing with a carload of drunk guys with baseball bats. The gun removes the disparity in physical strength, size, or numbers between a potential attacker and a defender.

There are plenty of people who consider the gun as the source of bad force equations. These are the people who think that we'd be more civilized if all guns were removed from society. But, a firearm makes it easier for an armed mugger to do his job. That, of course, is only true if the mugger's potential victims are mostly disarmed either by choice or by legislative fiat - it has no validity when most of a mugger's potential marks are armed.

People who argue for the banning of arms ask for automatic rule by the young, the strong, and the many, and that's the exact opposite of a civilized society. A mugger, even an armed one, can only make a successful living in a society where the state has granted him a force monopoly.

Then there's the argument that the gun makes confrontations lethal that otherwise would only result in injury. This argument is fallacious in several ways. Without guns involved, confrontations are won by the physically superior party inflicting overwhelming injury on the loser.

People who think that fists, bats, sticks, or stones don't constitute lethal force, watch too much TV, where people take beatings and come out of it with a bloody lip at worst. The fact that the gun makes lethal force easier, works solely in favor of the weaker defender, not the stronger attacker. If both are armed, the field is level.

The gun is the only weapon that's as lethal in the hands of an octogenarian as it is in the hands of a weight lifter. It simply would not work as well as a force equalizer if it wasn't both lethal and easily employable.

When I carry a gun, I don't do so because I am looking for a fight, but because I'm looking to be left alone. The gun at my side means that I cannot be forced, only persuaded. I don't carry it because I'm afraid, but because it enables me to be unafraid. It doesn't limit the actions of those who would interact with me through reason, only the actions of those who would do so by force. It removes force from the equation..And that's why carrying a gun is a civilized act !!

By Maj. L. Caudill USMC (Ret.)

So the greatest civilization is one where all citizens are equally armed and can only be persuaded, never forced !!


---
Combat rules don't keep women off battlefield
David Martin - On Thursday, the Pentagon will announce a new policy that will open up thousands of support jobs for women in the military. Currently, ... Read Article
---
Navy close on making super-powerful railgun


(CBS/AP) NORFOLK, Va. - A super-powerful gun that shoots rounds more than 100 miles away - at several times the speed of sound - is being developed for Navy warships.

The weapon is known as an electromagnetic railgun. It consists of parallel rails and uses a magnetic field and electric current, instead of chemicals, to generate energy to fire the rounds.

The Navy said Tuesday an industry-built prototype of the gun is being tested at the Naval Surface Warfare Center Dahlgren Division in northern Virginia. At this stage, they're focused on measuring the gun's barrel life and structural integrity because it is capable of firing rounds at up to 5,600 miles per hour, or more than seven times the speed of sound. More research and development is needed to over the next five years to ensure the weapon can cool down and handle repetitive fire. The Navy wants to be able to fire 10 rounds a minute.

They're also working to ensure that the roughly 40-pound metal projectile the gun will ultimately fire can withstand the heat and G-forces from the launch and will not disintegrate. And they need to make sure any electronics in the projectile, such as a GPS system, are safe.

One of the main reasons behind the Navy's railgun program is that being able to power the gun electromagnetically is seen as much safer than having to use conventional explosives, CNET's Daniel Terdiman reported in January.

Navy railgun with 220 mile range closer to reality

Navy researchers said the weapon's high-velocity and range would allow ships to provide support for Marines storming a beach. It could also target enemy ships and provide self-defense against cruise and ballistic missiles.

Currently, 5-inch guns on destroyers have a range of about 15 miles.

"As you can see, it represents a significant increase in range," Roger Ellis, the Office of Naval Research's electromagnetic railgun program manager, said in a conference call with reporters.

Ellis said that because the gun can fire at such high speeds, it wouldn't necessarily have to shoot an explosive to inflict damage, either. He would only say that it would carry a "lethal mechanism."

The Navy has been developing the weapon since 2005 at a cost of about $240 million. Similar funding is expected to keep the program going through 2017, when the Navy anticipates the weapon will be ready. It could still take several more years before the gun is put on ships.


Navy's Record-Breaking Railgun Shot


The 40-feet-long gun being tested more closely mirrors a final product than previous versions. It has been test fired six times since last week.

A second industry-built prototype will be delivered to the Navy for testing in April.

General Atomics, one of the companies providing a prototype, has also invested $20 million.

"We believe this is definitely a game changing capability that'll enable our forward presence and freedom of the seas," said Tom Hurn, director of railgun programs, for General Atomics, one of the two companies providing a prototype.


About Us
About Us
Thanks for reading our newsletter - if your friends want to subscribe, point them to https://www.specialforces.com/ or click here to forward this email to a friend.
Hooah!
Dave Thomas
Special Forces Gear